We have an array of amazing faculty and staff here at Festival Playhouse, including visiting professors, special guest artists, and a senior Department Student Advisor (DSA).
Lanny Potts- Acting Chair and Director of Theatre; Professor of Theatre Arts
Scenic Design, Lighting Design, Stage Management, Theatre Senior Seminar
Lanny is a professional designer and consultant. His work includes international lighting and production design; national tour designs for opera and dance; regional designs for opera, modern dance, ballet, drama, and corporate events; concert work for Willow Creek International and the Indigo Girls; work in architectural lighting and consulting; TV studio production design and consulting; and consultant planning for performance venues and events (including the 1996 Olympics). In addition to his professional work Lanny has sustained a 25-year teaching career within the Higher Education Academy while also providing guest "masterclass" design instruction at various venues; and providing professional presentations on lighting design, design communication, and leadership and creativity within the arts at professional conferences and workshops. He has presented portfolio examples of his work at regional conferences, worked at the John F. Kennedy Center for the Performing Arts, and has received numerous professional awards including a Michigan Governor's Commendation and Atlanta Critic's Choice awards for his design work (including the Atlanta premier of A Few Good Men). Recent work includes Gypsy (State of Michigan Wilde Award), Fun Home (National Lighting Design Award from the John F. Kennedy Center), Beyond the Rainbow, Bridges of Madison County, Dogfight, Cabaret, Next to Normal, The Light in the Piazza (State of Michigan Wilde Award), and many more; international production design work with the Willow Creek Organization in Germany; architectural and lighting consulting for theatre performance spaces and houses of worship; scenic and lighting design work for local and regional companies; group facilitator for a hiking tour of Israel; design and logistics support for our recent production of Kahani in Varanasi, India. He has also served six years as Associate Provost of Academic Affairs at Kalamazoo College. Lanny enjoys spending time with his family, the outdoors (hiking, camping, and horseback riding), Ultimate Frisbee, reading, triathlons, and youth ministry.
Phone: 269.337.7127
Currently on sabbatical: Ren Pruis- Professor and Department Chair
Fundamentals of Acting, Developing a Character, Advanced Acting, Voice and Diction, Theatre for Community Dialogue, Theatre Senior Seminar, Seminar In Women's Studies, and Yoga
An associate professor of Theatre Arts at Kalamazoo College, Ren Pruis teaches all of the performance courses plus senior seminar. She is a founding member of Queen's Company in NYC, an all-female company devoted to producing classical texts. Favorite professional credits there include the Cardinal in Duchess of Malfi, Gremio in Taming of the Shrew, and the title role in Macbeth. Some West Coast credits include: San Francisco Shakespeare Festival, Electra Theatre Company, Central Works, Boscov Productions, Human Nature, and The Marsh. Ren also spent six years with Kaiser Permanente's Educational Theatre programs, as both an actor and manager of multiple shows that toured across the U.S. mainland and Hawaii. She holds a Master of Fine Arts in Acting from The American Conservatory in San Francisco, and is an Associate Teacher of Fitzmaurice Voicework®. Recent directing credits for Festival Playhouse include A Raisin in the Sun, Cloud Nine, Macbeth, Top Girls, Imaginary Invalid, an all-female production of Hamlet, and In the Next Room (or the Vibrator Play).
Phone: 269.337.7128
Quincy Thomas- Assistant Professor of Theatre Arts
Theatre History, Directing, Playwriting, First Year Seminar
Quincy's doctorate is in Theatre and his Performance Studies certification are both from Bowling Green State University. His research centers on subjects including, but not limited to: counter-storytelling; Black performativity in American culture; representations of the marginalized in popular culture; comedic and solo performance, and performative writing. As an Assistant Professor of Theatre Arts at Kalamazoo College, he teaches Directing, Theatre History, & Playwriting, and he has taught a variety of additional courses in theatre, performance studies, and film. All of his courses are informed by his research on issues of cultural marginalization and misrepresentation in the arts, specifically of racial and ethnic minorities, women, and members of the LGBTQ+ community. His work has been published in peer-reviewed academic journals, including the International Review of Qualitative Research and Puppetry International and presented at national conferences, including the Mid-America Theatre Conference, the International Congress of Qualitative Inquiry, and the Mid-Atlantic Popular and American Culture Association, and he currently serves as president of the latter organization. His most recent directorial offering was Robert Patrick's Play-by-Play: A Spectacle of Ourselves: a Verse Farce in Two Acts. Quincy also has a background in acting. Some of his favorite roles played include Christopher in Joe Penhall's Blue/Orange, Albert in Bruce Norris' Clybourne Park, and most recently the role of Actor in Nassim Soleimanpour's White Rabbit; Red Rabbit.
Phone: 269.337.7126
Laura Livingstone-McNelis- Festival Playhouse Manager and Theatre Arts Administrator
Laura holds her M.A. in Liberal Studies in American Culture from the University of Michigan-Flint and wrote her master's thesis on African-American playwrights. A graduate of Kalamazoo College, Laura has spent most of her career teaching middle and high school students in the Kalamazoo area as well as in the Academically Talented Youth Program in the Lee Honors College at Western Michigan University. She designed the middle school humanities curriculum at a local progressive school. As a forensics coach, she took her teams to state competition on many occasions. One of her favorite directing experiences was Twelve Angry Men, in which she used masks, interaction with the audience and even the refreshments to raise social awareness. A few of her favorite shows were Uncommon Women and Others when, as a first-year student herself, she acted with (recently retired) Professor of English, Dr. Gail Griffin; The Bacchae, in which she portrayed the blind Tiresias; and Fefu and Her Friends, in which she depicted the wheelchair-bound and hallucinogenic character Julia.
Laura's first original play was produced in the New Play Festival and featured in a Be Light article, "A New 'Lost' Adventure." She is currently working on publishing a children's book based on true stories.
Phone: 269.337.7130
Anthony J. Hamilton- Guest Instructor of Theatre Arts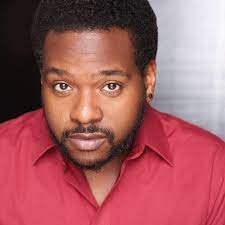 Fundamentals of Acting, Advanced Acting, Developing a Character
Guest Director Anthony Hamilton will join the Festival Playhouse Company to teach acting courses this year, as well as direct K-students next spring in the musical. Anthony Hamilton received the Broadway World Regional Award for Director of the Decade, made his NYC directorial debut with Grandma's Quilt produced by The Negro Ensemble Company, and recently opened The Piano Lesson by August Wilson here in Kalamazoo. A highly acclaimed artist as well, Hamilton received the award for Best Choreography (Broadway World Regional Awards, 2019), and the Young Artist Award (Arts Council of Greater Kalamazoo in 2008). Anthony is excited to produce this work in our community and thrilled to work with our students.
Phone: 269.337.7128
Stacy Bartell – Guest Instructor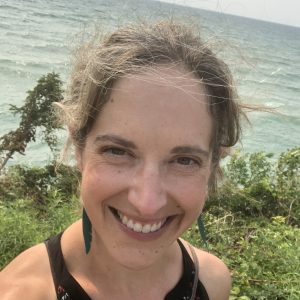 Stacy Bartell is excited to be the Guest instructor for Stagecraft this winter term!
Stacy considers herself a lifelong student of technical theater. Over more than two decades in the industry Stacy has been a lighting designer, a scenic designer, a carpenter and a technical director. She has built everything from Broadway scenery to trade shows to a full set of Harry Potter style light-up magic wands and has touched more than 350 productions in 5 states in her career, giving her a thorough breadth of experience. She enjoys a thriving personal business doing custom woodworking (ask her about the hidden room she designed in a clients' attic space!), as well as her full-time professional role as Properties Master at the Kalamazoo Civic Theatre. In her free time, Stacy can be found practicing Aerial arts, reading and learning the German language.

Credentials: BFA Lehigh University 2004, Member of the Society of Props Managers (S*P*M)
Phone: 269-337-5183
Ed Menta- Professor Emeritus of Theatre Arts
From 1986-2018, Ed Menta taught Directing, Theatre History, & Playwriting, serving as James A. B. Stone Professor of Theatre Arts. As Director of Theatre, Menta directed and produced over 100 plays for Festival Playhouse of Kalamazoo College. His final production, alumnus Lisa Kron's Fun Home, was invited to perform at the Kennedy Center American College Theatre Festival 2018 Region III festival. Menta's The Magic World Behind the Curtain: Andrei Serban in the American Theatre (Peter Lang Press, 1996) was a Choice "Outstanding Academic Book." His articles have appeared in such journals as Theatre Topics, Shakespeare Bulletin, and The Baseball Research Journal. New England Theatre Journal published his 2020 essay, "I Finally Saw the Italian Renaissance Theatres (and their Silent Ghost Audiences)." In 2018, Menta received the Kalamazoo College Lux Esto Award of Excellence for a "superlative record of stewardship and innovation." Currently, he performs as a founding member, guitarist, singer, & songwriter with the Kalamazoo blues band, BlueBack. For more info on the band and other gigs, check BlueBack's Website.
Update from Ed Menta:
Emeritus Professor of Theatre Arts ​Ed Menta has an article, "I Finally Saw the Italian Renaissance Theatres (and their Silent Ghost Audiences)" in the 2020 edition of New England Theatre Journal (Menta gave a talk based on this research in the ARTBreak Series at the Kalamazoo Institute of Arts in December 2019). He also continues as the guitarist in the Kalamazoo blues band, BlueBack, which presented concerts in the Beats on Bates last summer.
Sedona Coleman '23- Departmental Student Advisor (DSA)
The DSA, or Department Student Advisor, for the 2022-2023 academic year is Sedona Coleman '23. Sedona has been an active part of the department since her first year at K when she was cast in Spitfire Grill. Since then, she has also worked in the scene shop and will be the fight captain for Othello. As a junior in 2021, Sedona studied at Queens University, in Belfast, Northern Ireland where she took acting classes and traveled to neighboring countries. Ask her about the highlights of studying abroad–she has much to share! Now in her senior year, Sedona is completing her SIP on theatre for all. This is her passion, so sit down and learn about this multi-disciplinary project which is quite likely the launching point of her career after graduation!
Nelda K. Balch (1916-2011)
Nelda K. Balch founded and established Kalamazoo College's Festival Playhouse. Following her retirement in 1981, the Playhouse was renamed the Nelda K. Balch Festival Playhouse in her honor. In her time at K, she was Department Chair, Full Professor, and Founding/Managing Director of Festival Playhouse. She was one of the most important members of the Kalamazoo College theatre community. Without her efforts, Festival Playhouse would not be the theatre it is today.
Nelda's Obituary in the Kalamazoo Gazette.