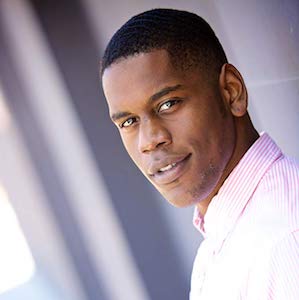 Quincy Isaiah '17
Quincy has an up-and-coming acting career in Los Angeles. After finishing his studies at Kalamazoo College, he moved to Los Angeles to continue his actor training. He was recently cast as Magic Johnson in an HBO limited series about the Los Angeles Lakers in the 1980's. He stars alongside Jon C. Reilly and Molly Gordon.
This Hollywood Reporter article, Meet the Cast of HBO's 1980s L.A. Lakers Drama, announces the cast for the currently untitled production.
---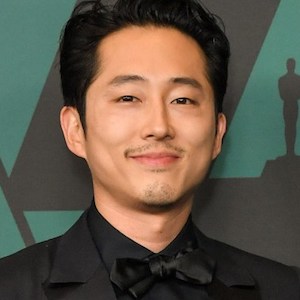 Steven Yeun '05
Steven Yeun is best known for his role as Glenn Rhee, one of the lead characters in AMC's The Walking Dead. Yeun received a Saturn Award for Best Supporting Actor on Television for his role on The Walking Dead.
Most recently, he played Jacob in Lee Isaac Chung's Minari, for which he was the first Asian-American to be nominated for the Oscar's Best Actor. Yeun has also been in a number of other TV shows and films including Wizards (2020), Sorry to Bother You (2018), The Star (2017), Mayhem (2017), The Big Bang Theory, Law & Order LA, Netflix Original Okja (2017), and Drunk History. His voice acting credits include Invincible, American Dad!, Legend of Korra, Netflix Original Trollhunters, and Voltron: Legendary Defenders.
After studying at K, Yeun appeared in improv groups such as The Second City in Chicago and Stir Friday Night, an improv group made up of all Asian-American actors.
---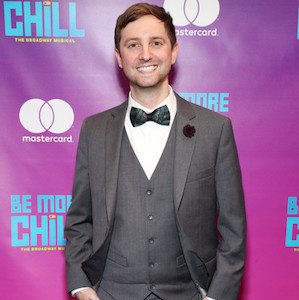 Joe Tracz '04
Joe Tracz is a playwright, screenwriter, and librettist. He created the Netflix series Dash & Lily. His adaptation of the first book in the Percy Jackson series, The Lightning Thief won a Drama Desk Award and a Lucille Lortel Award for Outstanding Musical. For this work, Tracz himself was nominated for a Drama Desk Award for Outstanding Book of a Musical.
He wrote the book for the cult musical Be More Chill that ran on Broadway in 2019 and was nominated for Best Original Score at the 2019 Tony Awards.
His plays have been developed at Manhattan Theatre Club, Roundabout Theatre Company and Second Stage, and have been published in "Best American Short Plays". Film and TV screenwriting credits include Netflix Original Lemony Snicket's A Series of Unfortunate Events, Epic, Lights Out, and Clarence.
New York Times Article, How an Anxious-Adolescent Musical (No, Not That One) Found Its Fans, discussing the Percy Jackson musical!
An interview with Joe Tracz, Playwright Joe Tracz Takes on High School in New Musical "Be More Chill" at NJ's Two River Theater, about his new musical Be More Chill.
---
Jordan Klepper '01
Jordan Klepper is a comedian and former correspondent on The Daily Show. He became the 13th person ever to host The Daily Show. He just finished hosting the satirical show The Opposition with Jordan Klepper on Comedy Central (2017-2019). Klepper also hosted his own TV Special titled Jordan Klepper Solves Guns, which aired in June 2017.
Recently, his own docuseries, Klepper, ran on Comedy Central. Throughout this series, he is on the ground interviewing important voices in protest movements.
He began his career working for the Big Ten Network as a comedian on the show Big Ten Friday Night Tailgate. Klepper is a former member of the improv groups The Second City and Upright Citizens Brigade.
---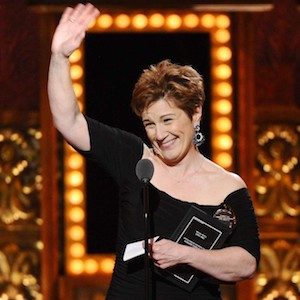 Lisa Kron '83
Kron is a Tony Award winner for Best Book and Best Lyrics and Score Of A Musical for her musical Fun Home in 2015 (the show also won Best Musical and Best Actor in a Musical). Fun Home is based on the graphic novel of the same name by Alison Bechdel. Festival Playhouse is proud to be the first college production company to produce this show!
Kron was nominated for a Tony award for Best Supporting Actress in a Play for her work in her own semi-autobiographical play Well in 2006.
Kron has also written two one-woman shows titled 101 Humiliating Stories and 2.5 Minute Ride. In 1989, Kron and some fellow actors founded a New York theatre company 5 Lesbian Brothers. The group writes and performs witty satiric works from a feminist and lesbian perspective. The Brothers have also toured all over the United States. The Brothers have won the Obie Award as well as other awards and have published The Five Lesbian Brothers' Guide to Life and Five Lesbian Brothers Four Plays. Her most recent achievement was being awarded the Kleban Prize for most promising musical theatre librettist in 2017.
Her musical Fun Home was produced at Kalamazoo College in 2017.
---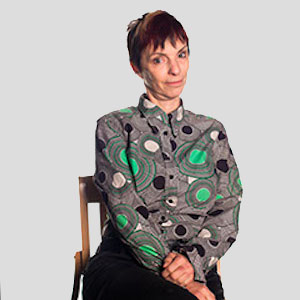 Holly Hughes '77
Holly Hughes is a lesbian performance artist known for her collection of performance pieces titled Clit Notes. In his piece, Hughes performs several roles: herself at different ages, her mother, and various lovers that she has had. She is considered to be one of the most popular and controversial out-there-and-in-your-face writer-performers around. She has been awarded a Lambda Book Award and an Obie Award. In February 2017 Hughes organized a D.I.Y. style cabaret-style series of performance events protesting newly-elected Donald Trump's presidency entitled "Not My President's Day." She currently teaches fine arts at the University of Michigan in Ann Arbor.