We're excited to announce once again there is a site for students interested in theatre to do so while studying abroad. Beginning in the Fall of 2020, K-students can study theatre/film, theatre/English, as well as other selected fields at Queen's University, Belfast, Northern Ireland.
Location
Located in Downtown Belfast, Northern Ireland, Queen's University is at the center of activity. Stately academic buildings are steps away from restaurants and shops, community events, and bus lines. One of the world's most impressive tourist destination, the Titanic Museum, is only a few minutes' ride away. During long weekends or holidays, students up of adventure can readily access theatre in Dublin or Shakespeare's theatre home in Stratford-upon-Avon, England, the Edinburgh Castle in Scotland, or the West End Theatre District in London, England.
The Lyric Theatre
Students have the unique opportunity to work side-by-side with Phillip Crawford The Lyric Theatre, Belfast's premier theatre. Only a short walk from campus, students will find the theatre there very welcoming; indeed, their slogan is "Come Play with Us." Whether onstage, backstage, front of house, or through civic engagement through the medium of theatre, the memories will last a lifetime.
Sonic Lab
Everyone loves music–but those who want to play with music and sounds of all kinds will find a home in the Sonic Lab. Created in 2003, the Lab provides students with high-tech sound systems including all-encompassing speakers literally creating a kind of sound-box/sound-bubble for a truly immersive experience.
---
Queen's University Update!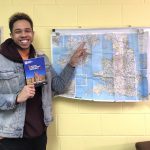 Congratulations to theatre major Trevor Lodeum-Jackson '21 for being accepted in the premiere class of students accepted to K College's Queen's University Study Abroad program!
Trevor will be one of four K students traveling to Northern Ireland in the fall of 2020!