This fall, we're doing a spotlight series featuring some of our favorite Kalamazoo College Theatre Arts Department alumni!
This week, we talked to Katy Loebrich '90. While at K, she appeared in August Strindberg's The Ghost Sonata her freshman fall. After that, she filled a variety of production positions, including wardrobe assistant, props master, sound designer, and assistant stage manager. She gradated from K in 1990 with an English major and a double-minor in Theatre Arts and Music.
She has been working in television since the year she graduated, and now, she's a two-time Emmy Award-winning TV Producer/Director at UNC-TV Public Media North Carolina. She is one of three producers on the Arts Team, and they won the Emmy, both times, for their arts show, Muse, which profiles all kinds of arts and artists across the state.
Read more to learn about her time at K and what she's up to now!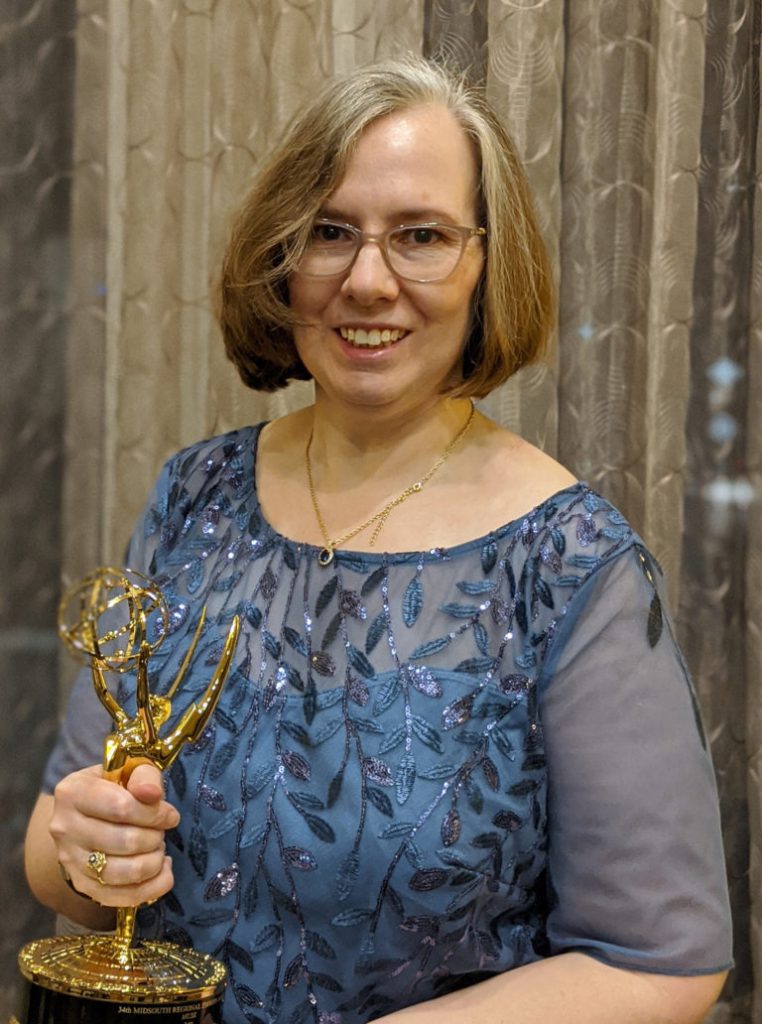 What plays, TV shows, or movies have been bringing you joy lately?
Ha-ha! What a great question! Binge-watching Netflix and Disney+. So much good television out there—and I love being one of the people who make the good tv! 
What's your favorite memory from theatre at K?
There are so many!! When I was at K, we were still on the K-Plan with the rotating on-campus and off-campus quarters, and sophomores and juniors were on-campus in the summer. We did multiple main stage shows during the summer terms. Those summer shows were also great because we got to work with professional actors who came in just for the summer season.
During freshman orientation the current theatre majors did a skit for us—it was a spoof of Jeopardy, and the final Jeopardy round clue was Shakespeare & Musicals. The answer was "What are the two things not done in Kalamazoo Theatre?" Spoiler Alert: by my junior year that was no longer true.
There was a production of Othello that summer, and the A/C went off in the theatre. The cast were given the choice to perform in street clothes, and some did, and some went half and half with shorts and doublets, but Desdemona wore her full dress and kept the heavy drapes onstage—and it was the best production I'd ever seen, the energy was so high! The first musical they did during my four years fell during my Senior Individualized Project, and I drove through a snow storm from Toledo to Kalamazoo to see Godspell—it was totally worth it, a phenomenal show! 
I was the sound designer who programmed the house music for a special show: Don't Bump into Me & Speak Cleary: An Evening with Noel Coward. Which is also when I met Nelda Balch. I became the ASM for the show because the stage manager came down with mono, and the original ASM got bumped up, so I did both roles walking back and forth across the light booth to cue music and lights. That was such a cool thing. Just Nelda's presence was inspiring.
But the absolute best part was the people—students, professors, alumni, emerti, and friends—we taught each other as we worked together. Making a TV show is a lot like that, except you can edit out the mistakes!
---
Thank you so much to Katy Loebrich '90 for answering our questions. To learn more about UNC-TV's Muse, check out UNC-TV's website. And if you want to know more about our alumni, check out our Notable Alumni page.