This winter, we're continuing our alumni spotlight series, featuring even more of our favorite Kalamazoo College Theatre Arts Department alumni!
This week, we talked to Aly Homminga '20. At K, she was heavily involved with the Theatre Arts Department, working in the Theatre Arts Office and acting in many shows, such as Fun Home and Silent Sky. She also went to the GLCA New York Arts Program. She directed several productions between New York and Kalamazoo, including Beauty's Daughter and Wine and Pizza.
Since graduation, she has continued acting and directing. Right now, she directing a virtual production of FantasticLand.
Read more to learn about her time at K and what she's up to now.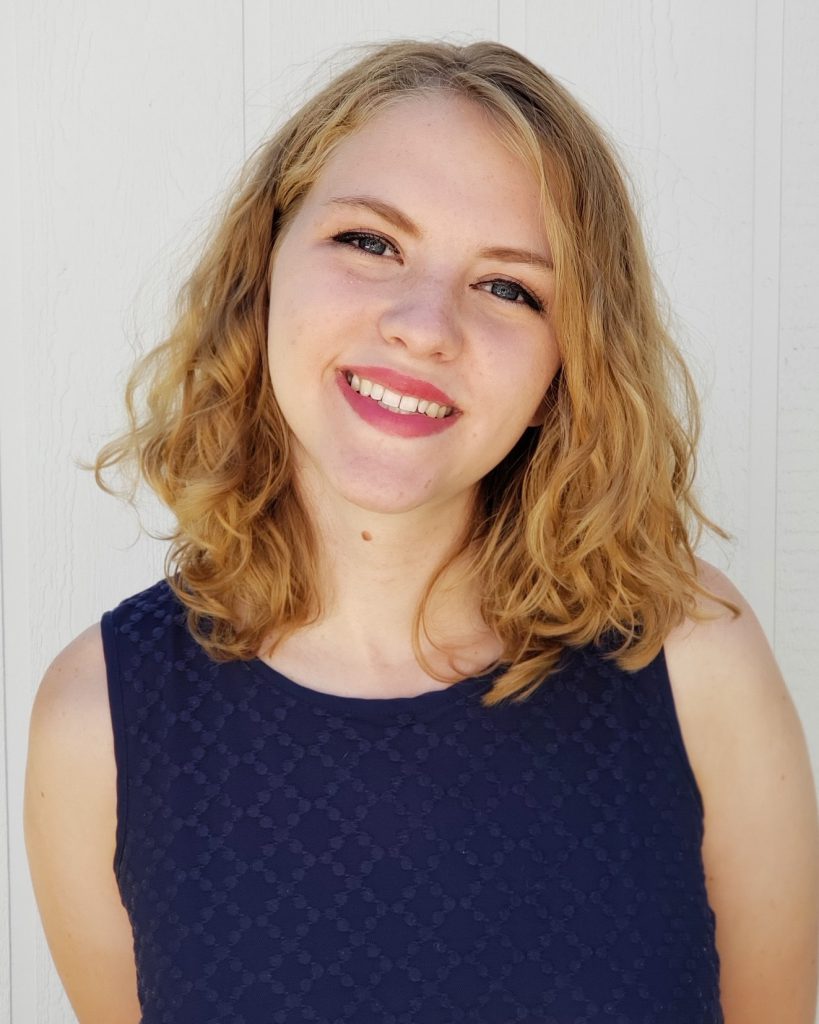 How have you been maintaining your craft during the pandemic?
I have had the privilege to be able to continue doing theatre work throughout the pandemic, usually in a virtual medium. I have directed two virtual shows, FantasticLand at Town Hall Theatre and Waiting for Doggot at Imaginarium Theatre Company. I have also acted in two productions, Care Instructions Not Included at The Grand Theatre (produced by Kate Kriess '19 and written by Camille Wood '17) and a short film titled 'The Prayer', written and directed by my boyfriend Sean Bogue '18. For both of the directing positions, I happened upon a call for a director on the internet and decided to apply. I am very lucky that both of the companies put their faith in me and trusted my directing abilities.
Additionally, I have kept my acting skills sharp by taking Method Acting classes online through The Lee Strasberg Theatre & Film Institute. It has been wonderful to continue to develop my craft and get feedback and tips from instructors, even over Zoom. Since April of last year, I have been crocheting for fun and relaxation, which is also a creative medium. I am grateful that I have taken the craft up again, my grandmothers taught me crocheting when I was young.
Tell us more about directing FantasticLand! What has that been like?
FantasticLand has been SO COOL! I had the idea of presenting it as a theatrical mini-series before I was hired, and Town Hall has encouraged me to take that idea and run. The whole experience has been extremely professional and exciting for my career. The play explores the events that transpired inside an amusement park when a hurricane traps 306 employees in the park. During the 5 weeks they were trapped, the employees, mostly young adults ages 18-25, split into "tribes" and were pushed to fight each other in order to survive. Think 'The Hunger Games' meets 'Lord of the Flies.' The story is told through interviews from surviving employees. I am working with 28 actors, each with a unique perspective and story to tell. Two of the actors are K grads! Sophie Hill '20 and Anders Finholt '20 are both in the production. I am editing the show myself and two episodes will be presented every week beginning March 11th. Information for tickets will be on Town Hall Theatre's Website and social media soon.
Are there any upcoming projects or life changes that you're particularly excited about?
Yes! Sean Bogue and I have a very exciting move planned. We are going to be living in Tokyo, Japan for a year beginning in March of 2021. I am really excited to be immersed in Japanese culture and experience Kabuki and Noh Theatre first hand. I am hoping to be involved in English speaking theatre companies while I am there as well to expand my acting and directing career internationally!
Which plays, TV shows, or movies have been bringing you joy lately?
In preparation for our move, we have been watching a lot of Japanese shows to learn more about the culture and language. Most recently, we finished a live-action drama series called Rookies that follows a high school baseball team. Sean and I also often have long movie nights and the most recent one was a comedy marathon including "classics" like Blades of Glory and Clueless.
What's your favorite memory from theatre at K?
I have so many very fond memories of my time at K, it is so hard to choose just one. I really appreciate the time I spent in The Playhouse, The Dungeon, and the office. As nostalgic as it is, my favorite memory has to be the last time I performed live, in Silent Sky, last year in February. There is a tender and emotional moment at the end when my character, Henrietta, wraps the show up with a lovely monologue detailing the ways her astrological discoveries have affected science since her death. She also speaks to her sister, Margret, played by Rose Hannan '23, from the afterlife. The moment Rose and I locked eyes during the monologue we both choked up every single time.
---
Thank you so much to Aly Homminga '20 for answering our questions! To learn more about FantasticLand, follow the production's Instagram account. And if you want to know more about our alumni, see our Notable Alumni page.